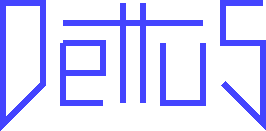 :LOGIX
:photos
:papers
:tutorials
:drm
:n2048
:nmicrocoder
:daes
:dhex
:deadline
:dettuxx
:detLFS
:dMagnetic
:circdraw
:systemc
:xf86config
:qdslconfig
:bootfloppy
:6502
:alienware
:inhouse
:math
winscp.exe
putty.exe
:impressum
---
dMagnetic
"You wake up on a sunny August morning with birds singing, and the air fresh and clear. However, your joints are stiff and you have not woken up in your bedroom as you would have expected. Trying to recall what happened the night before, you manage to piece together a few brief glimpses to give the following account:"

That is the beginning of "The Pawn", a classic text adventure from Magnetic Scrolls. Since I loved those games when I grew up, I always wanted to play it on modern hardware. Fortunately, the magnetic scrolls memorial website enabled me to do so.
One day, when I looked at the sourcecode of the interpreter available there, I realized that even more than playing, I wanted to recreate the virtual machine myself. The simplicity and the atmosphere of playing games in a terminal is wonderful, so I came up with ways to render the beautiful BEAUTIFUL images in glorious ANSI art.

dMagnetic - A Magnetic Scrolls Interpreter can be used to play "The Pawn", "The Guild of Thieves", "Jinxter", "Fish!", "Myth", "Corruption" and "Wonderland".
---
---
On July 25th, 2019, I joined the ranks to THE GUILD OF THIEVES.
---
Screenshots
Version 0.17 The Pawn
Version 0.17 The Guild of Thieves
Version 0.17 Jinxter
Version 0.17 Fish!


Version 0.17 Myth
Version 0.17 Corruption
Version 0.17 Wonderland
Version 0.09 The Pawn- XGLK
---
Downloads
Version 0.17 (28-jul-2019)
Now that I am a member of the Guild of Thieves, I finally found some time to tweak the low ansi output a little bit. It looks awesome, and I will upload a bunch of new screenshots soon.
Download Version 0.17 here (MD5sum: e5228a6d0432ae6dc4184726fb47225f)

Version 0.16 (06-jul-2019)
One user told me that he was not as pleased with the word wrap as one might think. Now, it is possible to read the text left-, block-, and right-aligned. (Whereas the last one is not really recommened. You see! ;) )
Download Version 0.16 here (MD5sum: 75768513c2c8737a09136efd7f539b0f)

Version 0.15 (08-jun-2019)
So far, I have been mauled by a bear, eaten by viscious rats, choked by a constrictor, buried alive (because I tried hiding in a casket), stood on a square of the wrong color, beaten in hand-to-hand combat by an old frail man, and drowned because I did not drop the statue. Oh, and I also kicked the bucket.
This version allows for configuration of the characters used for the low ansi and monochrome renderer. There, I also applied some subtle changes. Looks great!
Download Version 0.15 here (MD5sum: 2e7e7aa88bb93da5734ea055ee6d663b)

---
Version 0.14 (30-may-2019)
This version removed some graphical glitches in the pictures and the textual output.
Download Version 0.14 here (MD5sum: 637551533b7d61013a73930ff2e1e9f5)

---
Version 0.13 (24-may-2019)
This version made the "low ansi" mode the default output mode. It works on all terminals, across all Unix platforms (old and new). If you prefer to have the richest amount of colors, feel free to use the "-vmode high_ansi" command line option.
Download Version 0.13 here (MD5sum: 496040ffb0d71b9a33c8f1a38073fec5)

---
Version 0.12 (21-may-2019)
This version increased the amount of characters that are used for the low ansi mode. Pictures look much smoother and cleaner, even in low resolutions.
Download Version 0.12 here (MD5sum: 58deaf067b46b4c6e1e141dfad44a8fb)

---
Version 0.11 (19-may-2019)
This version has an updated manpage, and can be build with BSD make. To ease access, the command line options were streamlined. There is also the possibility to write logfiles of your adventures.
Download Version 0.11 here (MD5sum: c084c1e3c8cdab70b4723aa37ec42027)

---
Version 0.10 (17-may-2019)
This version saw lots of improvement on the low ansi output. I also added the possibility to set the graphics mode from the command line, for those who really want to try it out.
Download Version 0.10 here (MD5sum: 91682a13578ff5ea0ff25119b0aa1f39)
)

---
Version 0.09 (04-may-2019)
Due to popular request, I tried my hand in connecting the engine to the GLK standard interface. It works!
Download Version 0.09 here (MD5sum: 9bc968603460ea6b6932ef10b55a119b)

---
Version 0.08 (30-apr-2019)
This version saw a little bit of code cleanup. Graphics for "Corruption" and "Wonderland" are working. There was also a crash when trying to save the game with an empty filename. That has been fixed.
Download Version 0.08 here (MD5sum: d3574eec65463488379142d485d7c3ab)

---
Version 0.07 (28-apr-2019)
This version allows for playing through "Myth". Thus, all Magnetic Scrolls games are supported by this Interpreter! Enjoy!!
The code looks awful.
Download Version 0.07 here (MD5sum: 2509259d98f05edd3e9f685582f16c31)

---
Version 0.06 (28-apr-2019)
This version allows you to delve down into the rabbit's hole, and finish "Wonderland". Unfortunately, the graphics do not work, yet. But the story is as weird as you'd think. The code looks awful.
Download Version 0.06 here (MD5sum: 992ea0f8f6de195631fe0b8b184fc054)

---
Version 0.05 (27-apr-2019)
Due to popular demand, I started working on "Corruption". Which is possible to finish. "Myth", and "Fish!" can be started, but I cannot guarantee that you will be able to play them through. For this game, the graphic format changed, and I will have to figure out what it is before I can support it.
I also did some stabilization for "The Pawn" and "Jinxter". The code looks awful now.
Download Version 0.05 here (MD5sum: b3338aefa41463a64b9e7934be5a8f7b)

---
Version 0.04 (22-apr-2019)
The second release today... The last one was at 3AM. Just a little code cleanup. The default compiler settings are compiling with higher optimizations and full Warning flags. Just a little something extra.
Download Version 0.04 here (MD5sum: 8cbc6be42d81bca2288c662014f98399)

---
Version 0.03 (22-apr-2019)
This version saw more bugfixes. And I finshed playing Jinxter, albeit with only 185 of 205 points. I do not know if that is the end of the game, the virtual machine behaves bit-exact to the Magnetic2.3 version. Get the binaries from The magnetic scrolls memorial.
Download Version 0.03 here (MD5sum: 97e4010d700a5c4ad4e4eb59dc6322ca)

---
Version 0.02 (19-apr-2019)
This version saw some bugfixes. I even started working on the documentation, and I strolled into "The Guild"'s castle. I cannot guarantee that it is possible to finish the game. Get the binaries from The magnetic scrolls memorial. Oh, and the low ansi renderer looks much better now.
Download Version 0.02 here (MD5sum: 4a1e5566d8149f5077bb182a054a60ce)

---
Version 0.01 (14-apr-2019)
This is the initial release. It is possible to play through "The Pawn", but you will have to grab the .mag and .gfx binaries from The magnetic scrolls memorial . And I cannot guarantee that the game will not crash on you. Sorry.
Download Version 0.01 here (MD5sum: 3b65ee0fd977538a16a15da5e8c470d5)

---
---
More Screenshots
Comparison of the vmodes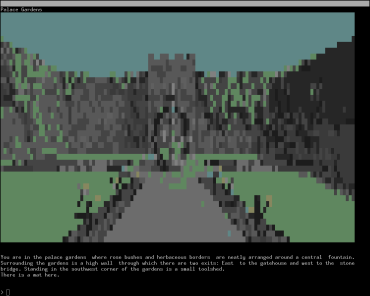 High Ansi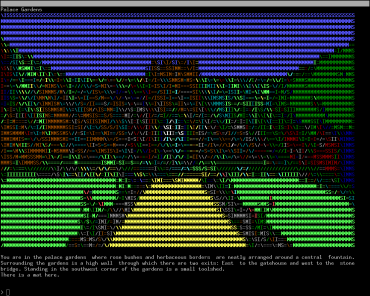 Low Ansi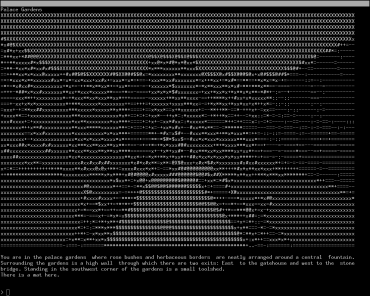 Monochrome
The Pawn, running on dMagnetic 0.12 in Low Ansi mode under OpenBSD 6.5/amd64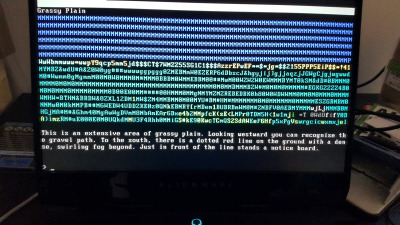 dMagnetic 0.12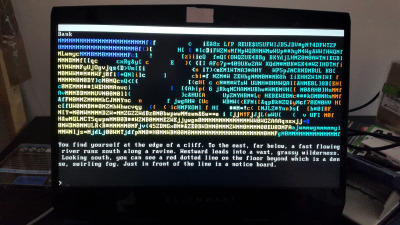 dMagnetic 0.12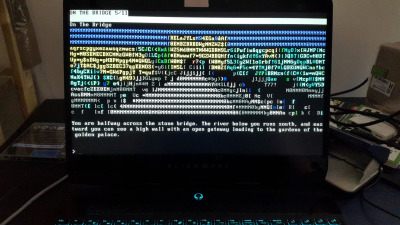 dMagnetic 0.12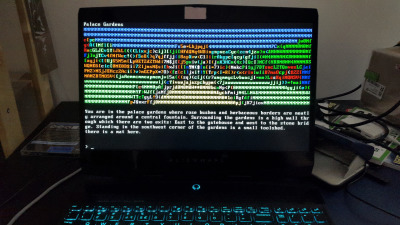 dMagnetic 0.12
dMagnetic 0.17 in xterm with tiny font
dMagnetic 0.16 in Gnome Terminal with high ANSI
dMagnetic 0.17 in Gnome Terminal with low ANSI

dMagnetic 0.17, The Pawn

dMagnetic 0.17, The Guild Of Thieves

dMagnetic 0.16, Fish!

dMagnetic 0.17, The Guild of Thieves
---